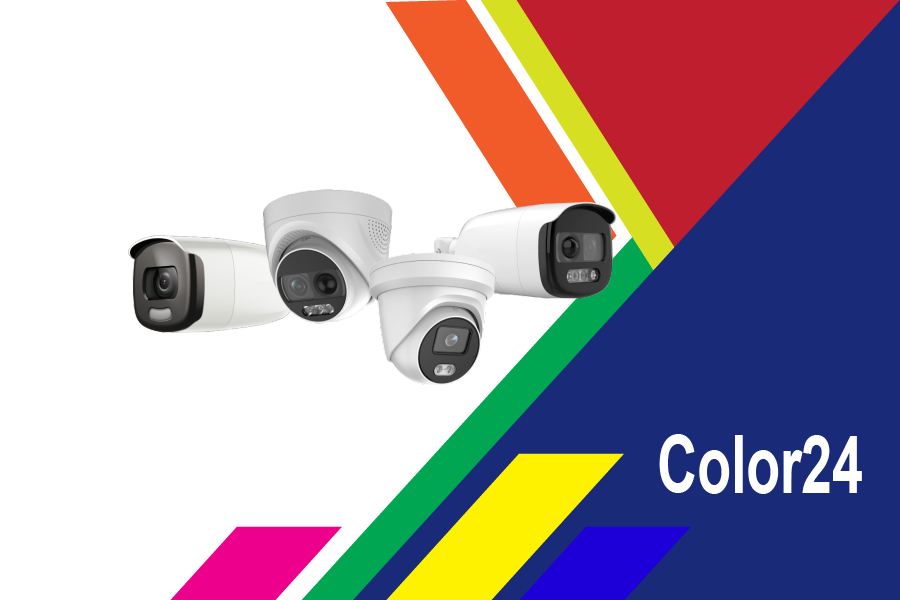 What's So Great About Color24 IP Cameras?
Compared to conventional cameras, Color24 cameras provide colorful, sharp images in low illumination conditions.
With an advanced sensor technology -- a new light collection structure that vastly improves the utilization of light, they are designed for surveillance applications where high color images are required.
Comparison between conventional cameras and our Color24 cameras:
Three main features of Color24 cameras are the super large aperture lenses, advanced sensors, and friendly supplemental lighting.
Aperture lenses:
• Equipped with a wider-than-average super-aperture, reaching up to f/1.0, which allows more light to enter lens, increasing image brightness.
• Feature Broadband anti-reflection (BBAR) coating and extra-low dispersion (ED) optical glass to reduce light flare and efficiently replicate image sharpness and color saturation.
Advanced sensors:
• Employ an advanced sensor technology that vastly improves the utilization of light for better image quality.
• Continually provide colorful, sharp images down to the lowest light levels.
• Deliver self-adaping 3D Digiatal Noise Reduction to remove noise from the image and ensure high quality full motion video.
Supplemental lighting:
• Extreme light conditions were taken into consideration during design for the best results in real-world applications.
• Supplemental lighting provides environmentally-friendly, warm lighting and reduces harsh discoloration of the scene.
Sounds amazing right? Go ahead and check out our Color24 cameras!
Please do not hesitate to reach out to us if you have any questions regarding our cameras, DVRs, or NVRs. We look forward to hearing from you!
Featured Products