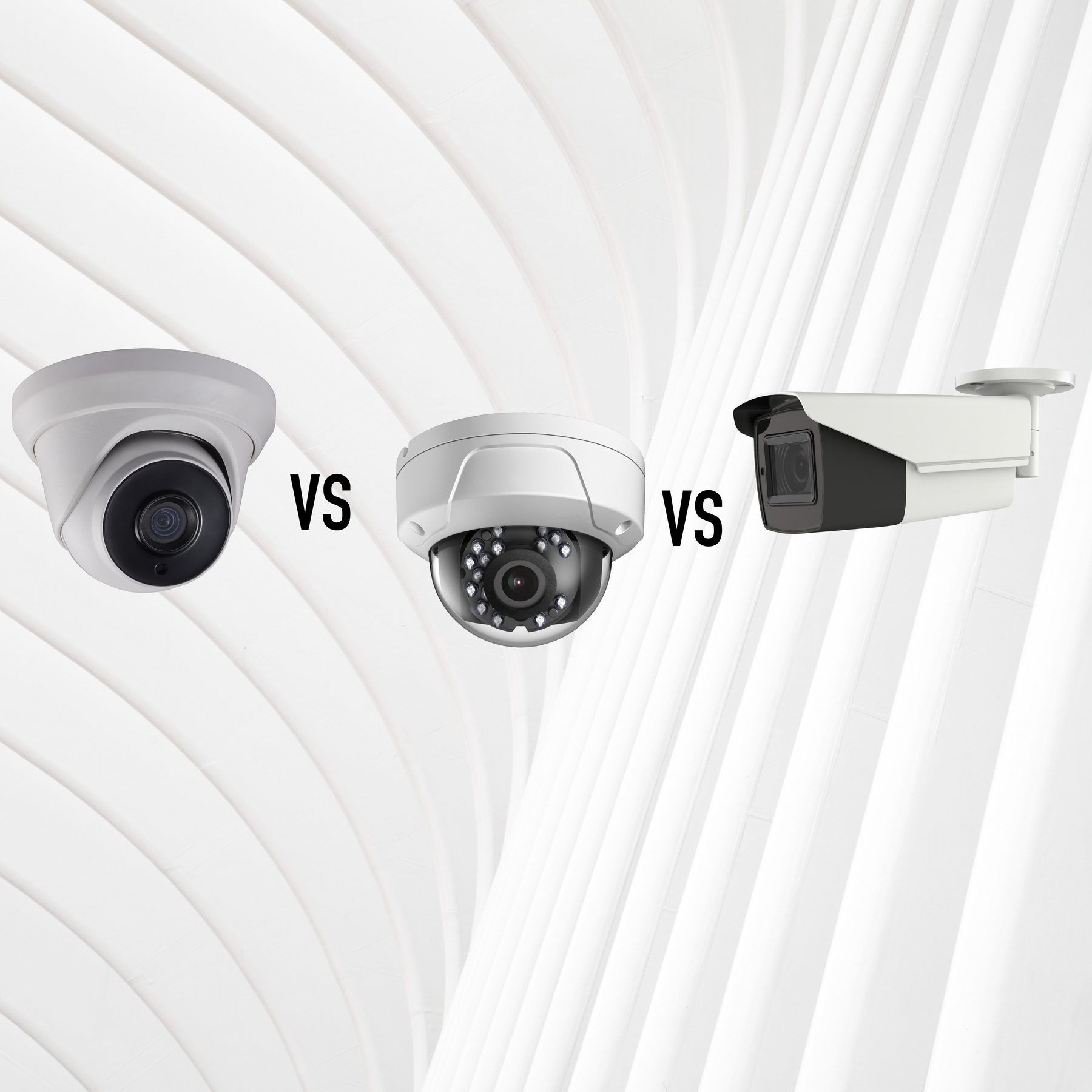 Domes vs. Turret vs. Bullet
Dome, Turret, and Bullet are three most common types of CCTV cameras available for installation in today's market. Each type of these cameras has their pros and cons. It is crucial to evaluate the application scenario before choosing the right camera for your home or business.
Dome camera is one of the most popular types due to its flexibility, functionality and superior protection against vandalization. The circular dome shape allows the vandal proof glass dome to fully cover and protect the camera lens. Dome camera can be used both indoor and outdoor, although many businesses like restaurants, malls, retails, and hotels choose to use it since it is discrete. The mount screws are above the camera lens, so dome cameras are usually mounted on the ceiling. Dome camera also gives the illusion of a much broader surveillance coverage since one cannot tell where the camera is pointing at.
Durable, vandal proof
Discrete look
Good for businesses and public spaces
Turret camera is getting more and more attention from professionals due to its extended capability and aesthetic appearances. It offers the same high quality images like dome camera does, but with extended IR (EXIR), meaning that the illumination is evenly dispersed and thus the camera supports longer night vision distance. Turret camera has a ball and socket design which allows it to rotate freely. Due to its beautiful appearance, they are more suitable for places with high decoration requirements, such as hotels, office buildings, and large malls.
Easy to rotate and re-position
EXIR technology
Easy angle adjustment
Bullet cameras are often found in commercial and rural areas where lighting is poor, or on the top of a high pole watching over a designated space. Due to its shape and size, the equipment can house high longer range lens and extended IR, suitable for open space with low lighting. A bullet camera can be installed when you only need to monitor the position of objects or the overall movement of the scene. Due to its highly visible appearance, turret cameras are often installed in commercial areas to deter theft and vandalism.
It is recommended to install bullet cameras outdoor because the mount screws are on the back of the camera base, making them easier to install on a wall, instead of on the ceiling. To be noticed, bullet cameras are the easiest to install out of all three types of cameras. 
Extended IR
Zoom capability
Highly visible, can be a good deterrent
If you still have any questions, feel free to contact us for any technical questions at no charge! Our in-house professional Tech Team is here to help.