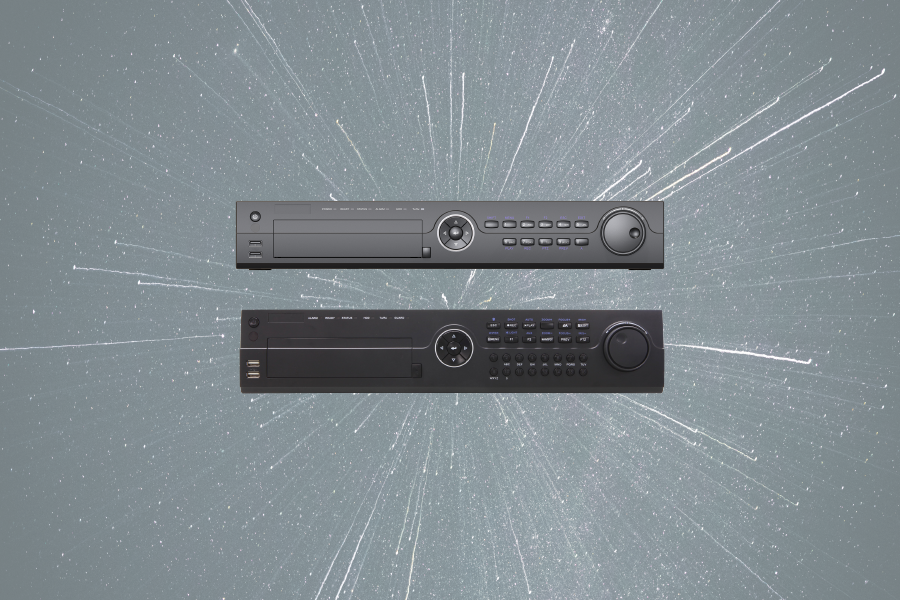 Everything You Need to Know about NVR
Although each business takes distinct forms and exhibits different characteristics, they all share the same need for better property security and more integrated operations and management. Network Video Recorders (NVR) have emerged as a popular security solution for small to larger businesses. Why are NVRs a good option? How do you configure NVR for IP camera on the network? In this post, our security expert will tell you everything you need to know about NVR and configuration tips.
First things first, what is NVR? What's the difference between DVR and NVR?
DVR vs. NVR
A Network Video Recorder (NVR) is a system designed to collect and store video data captured by all IP cameras connected to the network. At the core, both NVR and DVR are responsible for video recording, and the difference between the two is how they process video data. DVR systems process the video data at the recorder, whereas NVR systems encode and process the video data at the camera, then stream it to the NVR recorder which is used only for storage and remote viewing. NVRs are used with IP cameras whereas DVRs are used with analog cameras. It's important to note that a DVR based system is a wired security system, whereas NVR systems can be a wired or wireless system.
NVR must be connected to the internet in order to remotely access the video recordings, to send alerts and notifications to users, and to create backup of video data on cloud storage systems. Without internet connection, NVR will record and stream the videos but the videos are not remotely accessible to users. Basically, you cannot view the recordings when you're in the office if your NVR is not connected to internet.
NVR Setup with PoE Switch
NVR can be set up with or without a PoE switch. PoE switches are used with PoE compatible cameras, where cameras are plugged into the PoE ports of NVR and they are able to function without any power adapters. NVR without a PoE switch feature no ports for plugging for cameras, but they can scan the camera on the same network to function as well. 
To configure the NVR for IP camera on the network using PoE switch, you will need the following accessories:
power cable
Ethernet cable
SATA cables
security screw
power supply cable for hard drive
Having all the components ready, you can start with a hardware configuration:
Take the Ethernet cable from the router
Connect the Ethernet cable to the back of NVR and IP cameras (PoE enables the IP camera to be automatically powered)
Ensure your NVR is connected to the internet
Take an HDMI cable to connect NVR to your monitor
When the hardware setup is properly done, software setup is the next step. The instructions can be found in the manual that comes with the NVR.
NVR Setup without PoE Switch
As mentioned before, NVR without PoE switch has no Ethernet ports at its back panel, and thus requires an external power adapter or an external POE switch to power each individual camera. The configuration also starts with a hardware setup:
Connect the Ethernet cable from the LAN port on the external PoE switch and the router.
Connect the router with the non-PoE NVR.
Use Ethernet cables to connect all IP cameras to the PoE switch ports which will deliver power and support video transmission.
Take an HDMI cable to connect NVR to your monitor. Make sure you always use the right input when connecting.
Recording is enabled when cameras are added to NVR. You should be able to find specific steps in the instruction manual provided by Manufacturer.