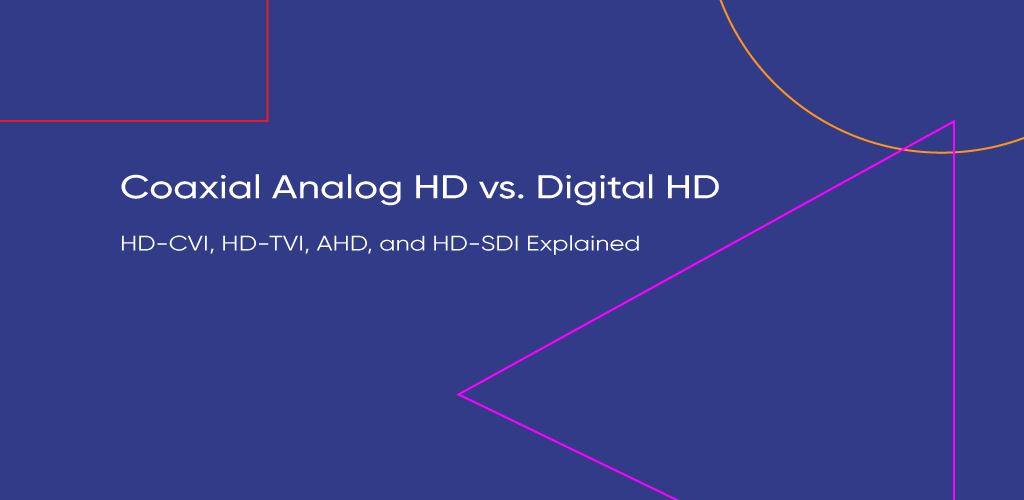 What Are the Differences between Coaxial Analog HD And Digital HD?
This is a question many people ask us about security cameras. However, there is no easy answer. It's going to look different depending on which factor you're looking at, such as compatibility, transmission distance, cost efficiency, etc, and your purpose for using video surveillance to begin with.
CCTV products have gained huge popularity across the globe due rising concerns for security and safety, and the security industry has benefited tremendously from current technological advancements at the same time. While it is commonly acknowledged that there's no "standard" or the "best" in HD security camera market, this article will talk about the differences between coaxial analog HD and digital HD technologies, comparing their competitive advantages and disadvantages. 
Now, let's start with some basics about HD Analog before we go ahead and compare HD-CVI, HD-TVI, AHD, and HD-SDI. As a compelling alternative to traditional analog and IP surveillance options, HD Analog video security solutions deliver megapixel resolution video over coaxial cabling (HD over coax), and are far less complex to install and operate compared to IP. 
Most HD Analog options offer similar functionalities, an easy way to carry HD signals without the need to upgrade or even replace the entire cabling infrastructure. The technology enables video, audio and digital data to be transmitted simultaneously over a single coax cable, which makes installation and maintenance really easy. The most popular HD Analog formats in the current market are HD-CVI, HD-TVI, and AHD, and they are working well for both the manufactures and the end users.  
Three analog transmission protocol: 
HD

-

CVI
HD-CVI (High Definition Composite Video Interface) is an over-coaxial-cable analog HD video transmission standard that transmits both video/audio and camera control over one coaxial line. The technology renders two HD video formats—1920H (1920×1080) & 1280H (1280×720) by progressive scanning. It can accomplish up to 500-meter transmission distances. The latest HDCVI 6.0 4K real time @30fps allows the viewer to capture more details in the video especially during high-speed sports scenes.  
https://videos.cctvcamerapros.com/surveillance-systems/what-is-hd-tvi.html 
HD-TVI
HD-TVI stands for High Definition Transport Video Interface. It is a digital signal processing and transport technology used to transmit video in HD security cameras and DVRs. HDTVI technology was developed by a company named Techpoint. They released the TVI video standard in 2014. The technology has been supplied to many manufacturers worldwide. Consumers can reliably connect TVI cameras from different manufacturers to the same DVR. 
HD-TVI technology currently suppors the following video resolutions using the same coax cable techniques used by traditional analog CCTV cameras: 720p 1080p, 3 megapixel, 4 megapixel, 5 megapixel, and 4K (8 megapixel). This makes it easy for people with existing analog CCTV systems to upgrade to an HD system because most of the time they can leverage their existing cable infrastructure. RG59 coax cable is the most popular cable used for installations. 1080p resolution is the most popular resolution for TVI cameras at this time.  
AHD
AHD (Analog High Definition) is an analog high definition closed-circuit television video surveillance standard that uses existing coax cable to transmit 720p and 1080p (1920 x 1080) video resolutions HD video from security cameras to DVRs (High Definition refers to resolutions over 720p). This uncompressed video format is able to transmit over longer distances than either HD-SDI or Network IP cameras and without the latency and bandwidth issues that are so common with IP Cameras. What is really separating this technology from the rest of the options for HD video transmission is the cost effectiveness of AHD. In most cases AHD is around the same price as the older analog CCTV technology and is far less expensive than HD-SDI or IP Network transmission. 
The digital transition protocol: 
SDI(Serial Digital Interface) is an uncompressed video signal sent along BNC cabling that has specialized connnectors on each end to lock into the devices they connect to. SDI supports 720p and 1080p resolutions, true color, and sharp images, satisfying users with high demands on video quality. 
As an option for more high-end security camera market, SDI has obvious advantages in certain industries due to its great video quality and uncompressed high-speed digital signal transmission.  
Coaxial analog and digital HD technologies share similarities in the way that their signals are transmitted over one single coax cable to their designated DVRs, and the fact that they supports the original infrastructure without the need to upgrade the entire system. Let's take a close look to the differences between Coaxial HD and HD-SDI technologies in the following aspects: 
Coaxial cables carry analog signals while HD-SDI carries digital signals. A coaxial cable is used when noise needs to be proteced over long cables. Signals are separated into different frequencies, and due to the way that coaxial cables handle data, coaxial cables provide slightly lower picture quality. For HD-SDI, digital signals are prone to less interference and degrade less than analog signals over time. 
HD-SDI has been estalished as a universal signal in broadcast and some other industries for decades, while HDCVI, HD-TVI, and AHD are in-house technologies that are relatively new in the market. 
A complete supply chain and logistic operations have been established in the video surveilance market. IP CCTV cameras are revolutionizing security measures, and technology has evolved to allow for a more diverse security monitoring system and higher compatibility across devices.  
Coaxial analog HD technologies can transmit over distances as long as 400 meters (1300ft), while HD-SDI can transmit up to 90 meters (300ft). Due to technological advancements, HD-SDI can transmit up to 220 meters with a signal boost, but it's viewed as a major disadvantage. 
Cost efficiency is the biggest advantage for coaxial analog cables compared to HD-SDI. Coaxial cables are cheaper and easier to install and also modify. 
Comparison Chart
Technology 

HD-CVI 

HD-TVI 

AHD 

HD-SDI 

Max resolution 

1080p 

1080p 

 

1080p 

 

1080p 

 

 

Video output quality 

Very good in daylight, not as crisp in low light conditions 

Very good, sharp images and true colors 

Fairly good images, not as crips; colors not as accurate 

 

Very good, sharp images and true colors 

 

 

 

Transmission distance 

Coaxial cable 

(RG59) 

1600' (720p) 
1300' (1080p) 

 

1600'  

1600' 

492' 

 

Twisted pair  

(CAT5) 

 

650' 

700' 

492'  

 

350'  

(digital converted required) 

 

 

 

DVR input 

Analog 

All analog cameras, limited channels, limited configurations 

All analog cameras, on any channel, in any configuration  

All analog cameras, limited channels, limited configurations  

Limited models, limited channels, limited configurations 

HD Analog 

Like-branded HD-CVI cameras, on any channel, in any configuration 

Any HD-TVI camera, on any channel, in any configuration 

Like-branded AHD cameras, on any channel, in any configuration 

 

Like-branded HD-SDI cameras, on any channel,

in any configuration 

 

IP 

Supported IP cameras, on select channels, in select configurations 

Supported IP cameras, on 2 channels, in any configurations 

 

N/A 

N/A 

DVR hybrid capabilities 

Limited configurability 

Limited configurability 

 

Limited configurability 

 

Limited configurability 

 

 

 

Format compatibility 

Proprietary technology, only produced by 1 manufacturer  

Open standard, over 100 manufactures have launched or are developing solutions using TVI technology 

Open standard, limited manufacturers 

Open standard, multiple manufacturers are currently existing 

in the market as alternative HD formats outspace SDI 
Analysis:
Resolution & image quality                                     

Video transmission distance      

Camera selection      

Cost of ownership      

 

 

 

 

Winner: 

HD-SDI, HD-TVI 

 

Winner: 

HD-TVI 

 

Winner: 

HD-TVI 

 

Winner: 

HD-TVI, HD-CVI, AHD 

All HD Analog formats offer cameras that capture up to 1080p resolution 

 

HD-SDI and HD-TVI produce sharper images with more accurate colors 

HD-TVI offers the longest transmission without signal degradation across both RG59 and CAT5 cabling 

 

HD-TVI allows the  user to connect to any analog or HD-TVI camera, on any DVR channel, and is the only HD Analog format that supports IP cameras              

HD-TVI, HD-CVI, and AHD cameras and recorders are available at similar costs to the end user. 
Get a good idea of what's coaxial analog and digital HD? Let us know what you think! Which one do you prefer and why?