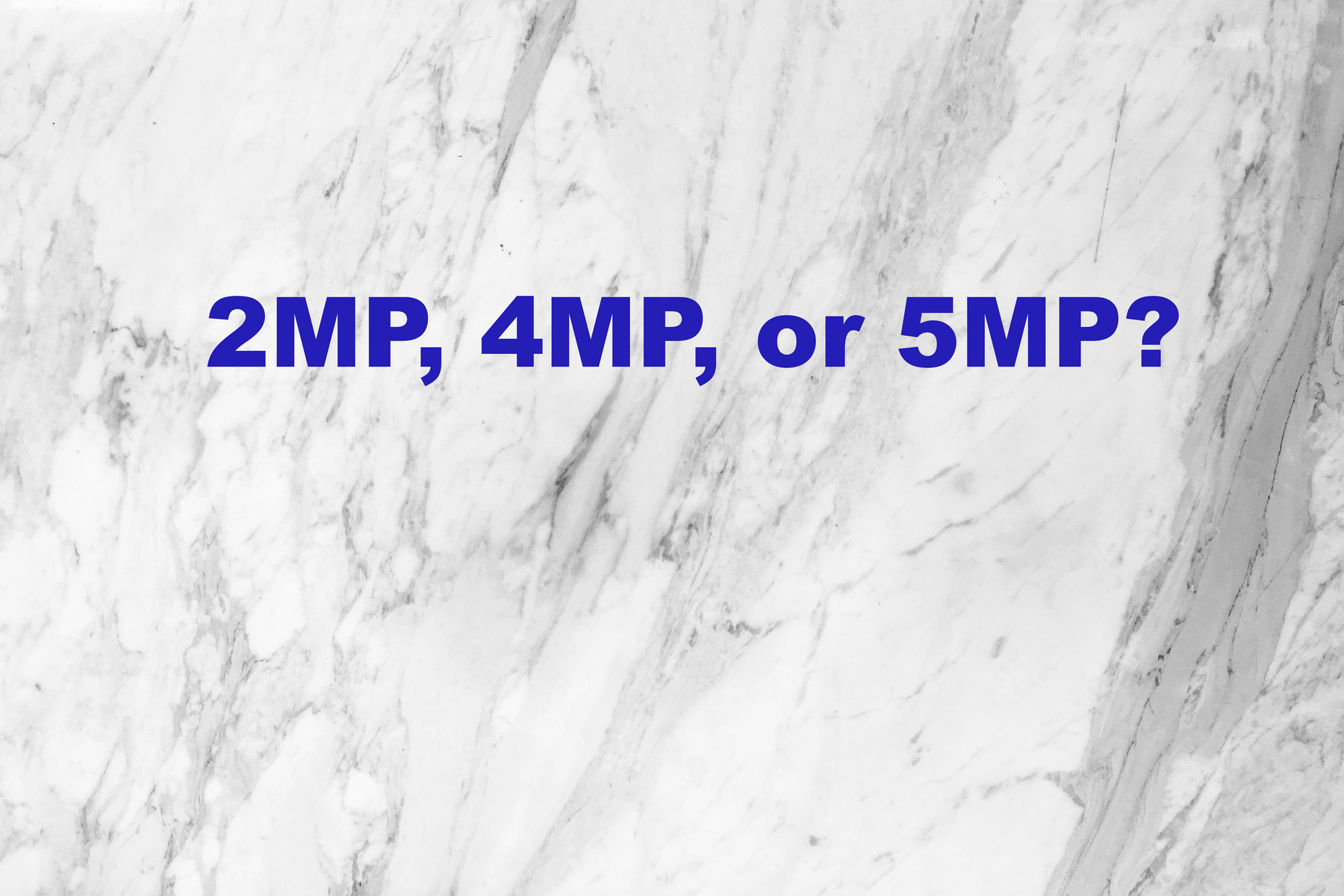 Practical Tips to Choose Security Cameras of Various Resolutions
Security Camera Resolution Explained
Choosing among various security cameras can be quite overwhelming, especially when you home requires special cameras to identify intruder's face at night time, or to read license plates in poor lighting conditions. To get the right camera for your home, it is recommended to learn about what camera resolution is and how to choose the right camera resolution to meet your security needs.
In today's market, high resolution has become a must-have feature for a good security camera. However, what is a good resolution for a security camera? Is there like an industry standard? How do you measure a good resolution?
First things first, let's tackle the definition of camera resolution. IP security camera resolution is the total number of pixels that make up an image, measured by the image width and height. For example, the width and height of a 2MP image are 1920 and 1080 respectively. By multiplying these two numbers you will get 2,073,600, which is the total number of pixels contained in the image. Sometimes people refer 1080p resolution to an image with a height of 1080, which is an image with two million pixels.
Some common resolutions for home security camera are 2MP (1080p), 4MP (1440p), 5MP (1920p), and 8MP (4K/2160p). These are also the best resolution for home security camera because these cameras can deliver clear and sharp image quality 24/7 and are within reasonable budget.
Security Camera Resolution Comparison
Now let's take a closer look at the following security camera resolution comparison:
| | | |
| --- | --- | --- |
| Resolution |  Image Size |  Pixels/image |
| 2MP (1080p) |  1920×1080 |  2,073,600 |
| 4MP (1440p) | |  3,686,400 |
| 5MP (1920p) | | |
| 8MP (4K) |  3840*2160 |  8,294,400 |
Which Resolution to Choose?
The differences between 2MP, 4MP, 5MP, and 8MP IP cameras lie in their image quality, field of view, live stream resolution, bandwidth, and storage consumption. 
More specifically, a 4MP camera can record super HD videos, twice good as the 2MP ones. Similarly, a 5MP camera can deliver images with more pixels than a 4MP one, especially when capturing objects at a distance. A 8MP camera can live stream in 4k, 1920p, 1440p and 1080p resolutions, while a 4MP camera can only live stream in 1440p and 1080p.
The higher resolutions your cameras can record, the wider field of view they can capture, so that they can cover broader areas. Similarly, cameras with higher resolution will require more bandwidth when transmitting high quality images and take up more storage space.
Analog cameras have different measurements in terms of resolution, and they are usually lower in resolution that they can't capture license plate well or identify intruders' faces in low lighting.
Practical Buying Tips
It is clear to all that the higher resolution the better image quality, but what resolution do you really need to put in your home? Check out the following tips before you make your purchase decision. 
1. High resolution security cameras are becoming more and more affordable, which means you won't need to spend crazy to get a good resolution home security camera that brings you peace of mind. You may even get a good deal during holiday promotions. 
High resolution cameras like NC214-XD 4MP IP Turret Camera and NC324-TD 4MP IP Dome Camera offer other great features like smart IR, excellent night vision, and IP67 protection if you wish to install them outdoor. 
2. Pick a system of multiple high resolution cameras to cover large, complicated areas. Though a high resolution camera can capture images with great detail, it may not cover ever corner of your backyard due to the limit of its field of view.
If you plan to surveillance your backyard or a commercial area, it is best to choose a security system like 4MP IP Dome Camera Kits to install at various spots. This high value kits includes four 4MP dome cameras for both indoor and outdoor, and a 8-ch 4K NVR with PoE.
3. Make sure your network is fast and stable. As explained above, high resolution IP cameras will take more bandwidth and storage. Slow and unstable network will result in your security camera delivering videos in lower resolution.
4. Make sure your storage space is enough. To run high resolution security cameras in your home, you will need greater storage capacity to save and back up the video footage. 
Other than resolution, there are other contributors to clear sharp images ----- focal length, image sensor size, frame rates, monitor screen, and installation spots. A longer focal length will give you wider field of view while at the same time reduce details you get in a longer distance. It is the same with a larger image sensor. In terms of frame rates, recording footage at a higher framer rate will produce a smoother video.
These contributing factors sum up our post today. Leave us a comment below if you have other questions about security camera resolution. We'd love to chat more with you!